Not only have we hit ground breaking records for our growth and expansion, but we have gained exceeding amounts of customer loyalty.
We value our customers and the people that we partner with in making our company successful.
Click on the links to see Lormax in the News.
Featured News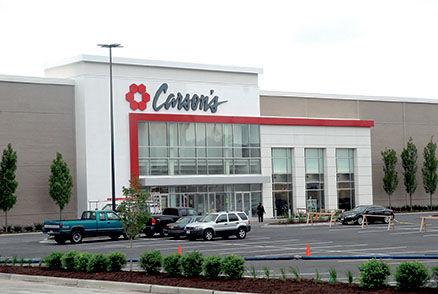 08/30/2016
A ribbon-cutting ceremony will be held for the new Carson's on the former site of The Plaza in Evergreen Park on Sept. 14 at 7:45 a.m., according to officials, who have also released details about other developments in the new Evergreen Park Open-Air Power Center. According to Bon-Ton Stores, which is building the Carson's, the new location on the southwest end of the property at 9500 S. Western Ave., is a 120,000-square-foot, two-story store. Another Carson's on the site, located east of the new store, will be demolished, officials said, and make way for parking at the new center. Detroit-based Lormax Stern Development is partnering with Tampa-based DeBartolo Development to construct the 425,000-square-foot center, and according to the Lormax Stern Web site, a Dick's Sporting Goods, Whole Foods 365 grocery store, DSW footwear store, Five Below discount store, Petco pet supply store, Dressbarn women's clothing shop, and Ulta Beauty store will be part of the development, with openings coming next summer.
…MORE
Latest News
08/23/2016
Even as demolition of The Plaza nears completion in Evergreen Park, the new Evergreen Marketplace will begin to take its place with the expected opening next month of a new Carson's store.
The new store is scheduled to open Sept. 14 on 98th Street near Western Avenue, store officials said. The existing store, which faces Western, will be torn down sometime after Jan. 1. The two stores will share the same parking lot for about a month.
When the new Carson's officially opens its doors, it will officially mark the first phase of the new Evergreen Marketplace, which replaces the once iconic Evergreen Plaza, designed by Arthur Rubloff that opened in 1952.

…MORE
08/23/2016
Sean Valentino is either a lucky guy or a talented mall director.
If the continued growth of the Green Oak Village Place shopping mall is any indication, he is definitely a talented mall director.
The outdoor shopping mall he has directed for the past two years is adding a T.J. Maxx store late next month and just renewed 13 store leases, with plans to bring in more stores in the coming months.
"We're very excited with the activity in the shopping center," said Valentino, the mall's director of retail operations. "We believe T.J. Maxx will add new energy and provide and enhance our current offerings."

…MORE
06/16/2016
LANSING – The newest pizza chain coming to Lansing can have an 11-inch pie ready in three minutes, thanks to an 800-degree oven.
Blaze Pizza is slated to open in the Frandor Shopping Center by the end of June in the former site of Video To Go.
"It's like the Chipotle of pizza," said Darla Bowen, marketing director for Northland Investments, which will operate the Lansing location.
The restaurant allows customers to build their own pizzas from roughly 40 ingredients or choose from a menu of nine signature pizzas before they are cooked – and cooked fast – in the 800 degree oven, Bowen said.
…MORE
04/28/2016
Gregory Boat Co. and Gregory Marina, family-owned Detroit companies that hail back to 1906, have been sold to Bloomfield Hills-based development firm Lormax Stern.
With the purchase, the companies' names will change. Gregory Boat Co., on East Jefferson Avenue across from Belle Isle, will be renamed Detroit Boat Basin; Gregory Marina, on Clairpointe Street near the Detroit River, will become KAM Marine and KAM Yacht Sales. Detroit Boat Basin was the company's name back in the 1940s.
The purchase will not impact the staff or its leadership. Kathy Gregory will continue as president.

…MORE
04/17/2016
The original Macomb Mall tower sign on a Gratiot corner may remind Metro Detroit of the 1960s and the suburban shopping center construction that pulled generations of consumers from traditional downtowns into single buildings anchored by Sears, Crowley and SS Kresge. But now the retro sign also is signaling a rebirth for the mall in Roseville, a few miles northeast of Detroit, MLive reported. Once close to closing, Macomb Mall now boasts a wave of new tenants and upgrades — and 95 percent occupancy across its 900,000 square feet.

…MORE
04/07/2016
A more than $2 million investment is planned at the Green Oak Village Place retail center in Brighton to prepare space for T.J. Maxx as a new anchor tenant. Redico LLC and Lormax Stern Development, owners of Green Oak Village Place, plan a 7,000-square-foot expansion and interior renovations to the spaces previously occupied by Old Navy and Justice to provide 23,000 square feet of space for T.J. Maxx. Justice relocated to a new, 3,300-square-foot space at Green Oak Village Place in January and Old Navy left the center, Sean Valentino, director of retail operations, said in an emailed statement.T.J. Maxx brings the center to 90 percent occupancy, he said.

…MORE
04/01/2016
Green Oak Village Place announced the addition of a 4,716-square-foot Maurices to the tenant mix this spring. Sean Valentino, director of retail operations at REDICO, the property manager at Green Oak Village Place, made the announcement. Maurices is a prominent national retailer featuring a collection of women's fashion, and will be opening at Green Oak Village Place on Friday April 22. The store will be adjacent to Bath & Body Works and J. Jill. "We look forward to welcoming another notable national retailer to our strong consumer offering at Green Oak," said Valentino.

…MORE
03/31/2016
The 50-year-old former movie theater at Macomb Mall in Roseville has taken another step closer to being torn down. Roseville city officials recently approved a demolition permit to Selective Construction Corp. in Southfield to take down the 50,000-square-foot space later this spring. "We've approved their plans and we're ready to issue the permit," said Glen Sexton, the city's building director. "Now all we need is someone to come in and re-build the building." Mall operators in the past have said they were considering adding another movie chain, a food court or retailer to fill the space…

…MORE
03/18/2016
Meijer opened its second store in Detroit less than a year ago, bringing its supercenter concept to a northwest neighborhood that fights to keep up its housing and lost many battles with commercial blight. But the corridor of Grand River where it meets McNichols – west of Rosedale Park and east of Old Redford – already is changing in the wake of Meijer opening. Millions of dollars in new investment is coming to the immediate vicinity in the form of new commercial spaces, repurposed vacant buildings and additional jobs, all of which participants credit to the increased activity from the store.

…MORE
03/06/2016
A section of Roseville's Macomb Mall that formerly housed Silver Cinemas will be demolished this spring, according to city officials. There is no word yet for what will replace the 50-year-old theater as the shopping center's owners are still working on future plans for the 50,000-square-foot space. "All of the conversations we've had with the mall owners in recent months tells us they are taking it down," Glenn Sexton, director of the city's building department, said Friday. Mall operators in the pas have said they were considering another movie chain, a food court, or retailer to fill the space once occupied by an eight screen discount theater.

…MORE
03/03/2016
ICSC members are working to offer assistance as the city of Flint, Mich., fights to sustain itself amid problems from a contaminated water supply. Nearly two years ago the city switched its water supply from Lake Huron to the Flint River. During the change, failure to properly treat the pipes for corrosion resulted in levels of lead contamination in the water that continues to affect the area…….
…..Bloomfield Hills, Mich.–based Lormax Stern Development is another ICSC member that is helping, having teamed up with Flint-based restaurant chain Halo Burger to provide bottled water to residents. The company is also raising money for the Flint Child Health & Development Fund.

…MORE